We offer garage door installation that will make your Oro-Medonte home stand out in the neighbourhood.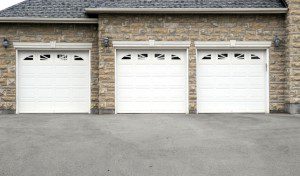 Garage Door Installation in Oro-Medonte – When you look from the street at your home, the largest feature is usually the garage door. The typical garage door installation for a new home is a very basic door, and very few builders offer an upgrade option, yet wouldn't it be nice for your garage door to be stylish and a reflection of your personality? It can be with garage door installation from our team at Kempenfelt Overhead Doors. We offer many options that will dress up your home's curb appeal and make it stand out in your Oro-Medonte, Ontario neighbourhood.
In addition to getting an improved style, garage door installation can also be a big part of improving the security for your home. A standard door is often not much of a deterrent to a determined burglar, nor is it as secure as you would like for strong winds and impacts. In addition to that, standard doors do not offer much in the way of insulation, making your garage an uncomfortable place during summer heat and winter cold. We can rectify that with custom doors that meet your needs for style, strength, and insulation, and our garage door installation services are second to none.
We have over 25 years of experience with garage door installation, and we also offer repair services for doors and openers. If you do not care for the appearance of your current garage door, or if it is showing signs of wear, give us a call. We'll be glad to give you a quote for garage door installation for your home or business property.
---
At Kempenfelt Overhead Doors, we provide high-quality garage door installation services in Oro-Medonte, Barrie, Innisfil, Orillia, Angus, and surrounding areas of Ontario.